---
Your Premier Walk-In Closets Company in Illinois
Crafting Walk-In Closets That Work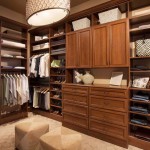 When most people think of walk-in closets, they think of the one closet in the house that stores everything. It's not uncommon that your walk-in closet starts as a space for your clothing, but ends up a dwelling place for much more – like that old air mattress! The easy solution is to fill your walk-in closet with bulky, plastic storage bins and stick-on hooks and door mounts that end up cluttering your closet even more. Don't let this happen to you!
With our walk-in closets and organizers in Illinois, you can take back that precious space and use it for what it was originally intended for. Can you imagine walking into your closet and knowing exactly where your shoes, watches, necklaces or socks are? What if you could spend 5 minutes arranging your wardrobe instead of 35 minutes? At Clabber Creek Custom Closets, walk-in closets are our specialty and we're proud to be the premier walk-in closet company in Illinois.
Your walk-in closet has to be functional. Otherwise, it's just wasted space. Thankfully, we understand that.
Functional Walk-In Closets
When designing your walk-in closet, we want to make sure that we cover all of the bases for your particular needs. We take careful steps to measure precisely how much space we have to work with and then devise a walk-in closet system to maximize that space. In order to make as much use of your walk-in closet as we can, we offer an array of custom walk-in accessories such as:
Tie Racks
Shoes Storage
Fold Away Ironing Boards
Special Lighting
Belt Racks
Jewelry Drawers
Custom Shelving
…and other simple solutions. No matter the size of your walk-in closet, Clabber Creek Custom Closets will maximize it's potential, leaving you with a walk-in closet you'll actually enjoy walking into.
Is your walk-in closet looking a little scary? Call (815) 344-2772 today and ask us about our FREE in-home consultations!